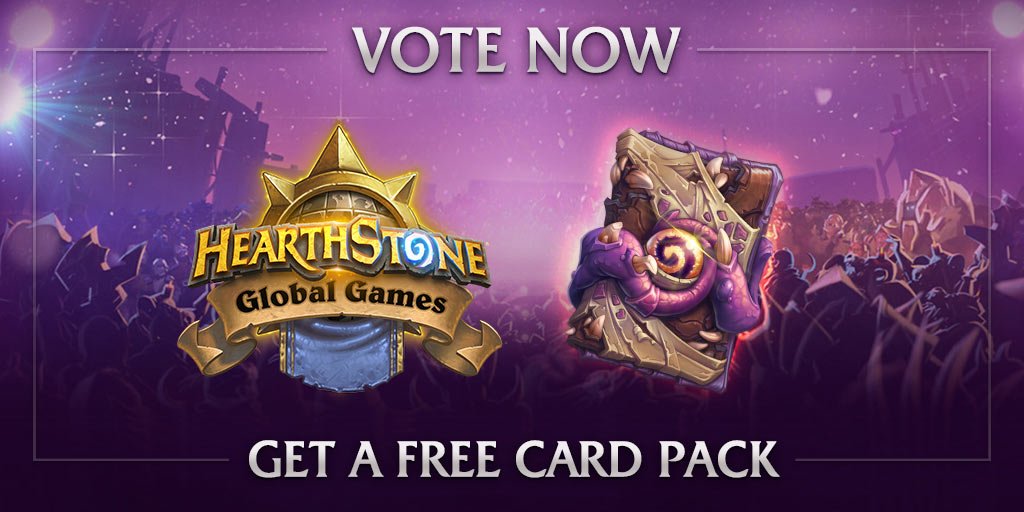 Juara Dunia bukan mimpi
Menyambut Hearthstone Global Games yaitu sebuah Hearthstone turnamen team yang diikuti oleh 48 negara di dunia termasuk Indonesia. HSID Team telah memilih Rezdan, Ligagamejoth, dan Satria untuk menjadi pilihan bagi anggota komunitas Hearthstone Indonesia. Baca selengkapnya disini.
Besar harapan komunitas Hearthstone Indonesia untuk mengharumkan nama bangsa Indonesia di pentas dunia. Jadi dukunglah mereka bertiga untuk mewakili HGG Team Indonesia. Caranya klik disini.
Untuk menambah peran kalian dalam mendukung HGG Team Indonesia. HSID Team menyiapkan beberapa event untuk anggota komunitas yang bisa diikuti
Event
Intro
Setiap anggota komunitas diharuskan memilih salah satu dari 3 pilihan diatas di fanspage post dengan mengikuti langkah-langkah berikut ini:
Langkah 1
Like apabila memilih Satria
Share apabila memilih Ligagamejoth
Comment apabila memilih Rezdan
Langkah 2
Dalam comment tulis dengan format [battletag][alasan]
Contoh: farando#1821 memilih karena memiliki jam terbang yang tinggi dan banyak berprestasi
Tanggal, jam: Jumat, 10 Maret 2017 jam 09:00 wib – Selasa, 14 Maret 2017 jam 12:00 wib
Persyaratan mengikuti event
1. Daftar disini
2. Upload screenshot hasil vote kalian melalui HP, PC, Laptop, dan Tablet di facebook fanspage HSID
3. Untuk event Road to Legend dan coaching clinic bersama HGG Team Indonesia terbatas untuk server NA/US/SEA
Detil Event
Road to Legend with HGG Team Indonesia
Dalam Event ini satu orang decker yang beruntung akan dibantu mencapai rank legend.
Coaching clinic oleh HGG Team Indonesia
HGG Team Indonesia nantinya akan online selama 1 jam untuk memilih satu decker yang beruntung mendapatkan coaching gratis.
Merchandise
Kalian juga bisa memenangkan hadiah lainnya dengan mengikuti event ini yaitu:
Hearthstone Pillow x1
Hearthstone t-shirt x1
HSID Sticker x10
Penentuan pemenang
Setiap anggota komunitas yang telah menentukan pilihannya, kemudian mengupload screenshot pilihannya ke facebook fanspage dan melakukan langkah-langkah yang telah ditentukan. HSID team akan melakukan pengundian 1 minggu setelah pengumuman HGG Team yang mewakili Indonesia diumumkan oleh Blizzard.
#HGG #TeamJuara #BestLineUP #Juara #PantangMundur #HSIDteam #HearthstoneGlobalGames #Indonesia #HearthstoneID